One of the biggest barriers to entry when it comes to travel is airfare. It can be prohibitively expensive — especially in this post-COVID travel boom.
As anyone who's spent time searching for flights knows, finding a cheap one can be an arduous and time-consuming task. Unlike other aspects of travel (say, museum entry fees or walking tour prices), flight tickets don't have a set price. Instead, tickets are volatile and unpredictable. We can't expect a nonstop journey from NYC to Tokyo to always cost the same amount (though that would be nice!).
And even if you find an affordable deal, it can be easy to get caught in decision paralysis, questioning whether you should really book it, or if you could find something even cheaper (this is something that happened to me a lot when I first started traveling).
But this volatility in pricing can actually be used to a traveler's advantage — with the right tools.
That's where Going comes in. It's a tool designed to help you find cheap flights.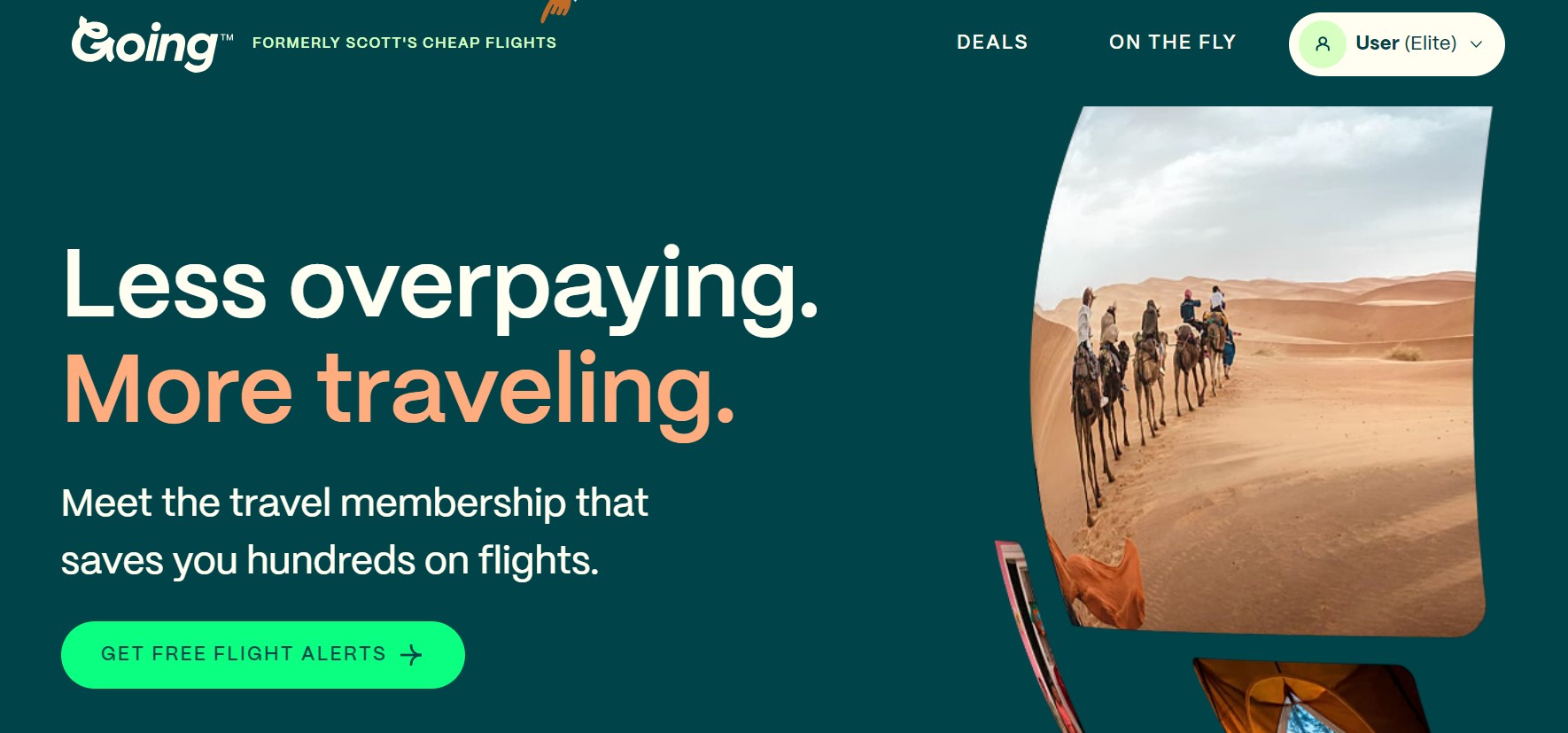 Formerly known as Scott's Cheap Flights, Going is a membership-based website and newsletter that finds flight deals to over 900 destinations around the world. Most deals are 40-90% off normal prices, meaning members save an average of $550 USD on international economy seats (first-class flyers save $2,000 USD on average).
That's a huge amount of savings!
Going started back in 2013 when Scott Keyes found an unbelievable deal from NYC to Milan: just $130 USD round-trip. He immediately booked the ticket, went to Italy, and had the time of his life.
When he came back, friends and family kept asking how he found such a great deal. So, he started sending a regular email to friends with the deals he found. By 2015, Scott's Cheap Flights was born.
Many years — and over two million members — later, Scott's Cheap Flights rebranded as Going. Same company, new name. Going encourages its members to take a reverse-booking approach to travel, which means choosing your destination and dates based on the flight deals that are available rather than deciding when and where you want to go and then looking for a bargain. It seems counterintuitive at first, but it means you can find incredible deals if you're flexible.
I've known Scott for years and love what he has done with the company. I think he's created one of the best tools for finding cheap flights there is. But don't just take my word for it — here's everything you need to know about Going to decide if it's right for you!
How Going Works
At its core, Going is a membership website, meaning you have to sign up for some sort of plan to access its deals (one of the options is free, and all the plans offer free trials).
After signing up, it's a super simple process to set up your account and get deals landing in your inbox: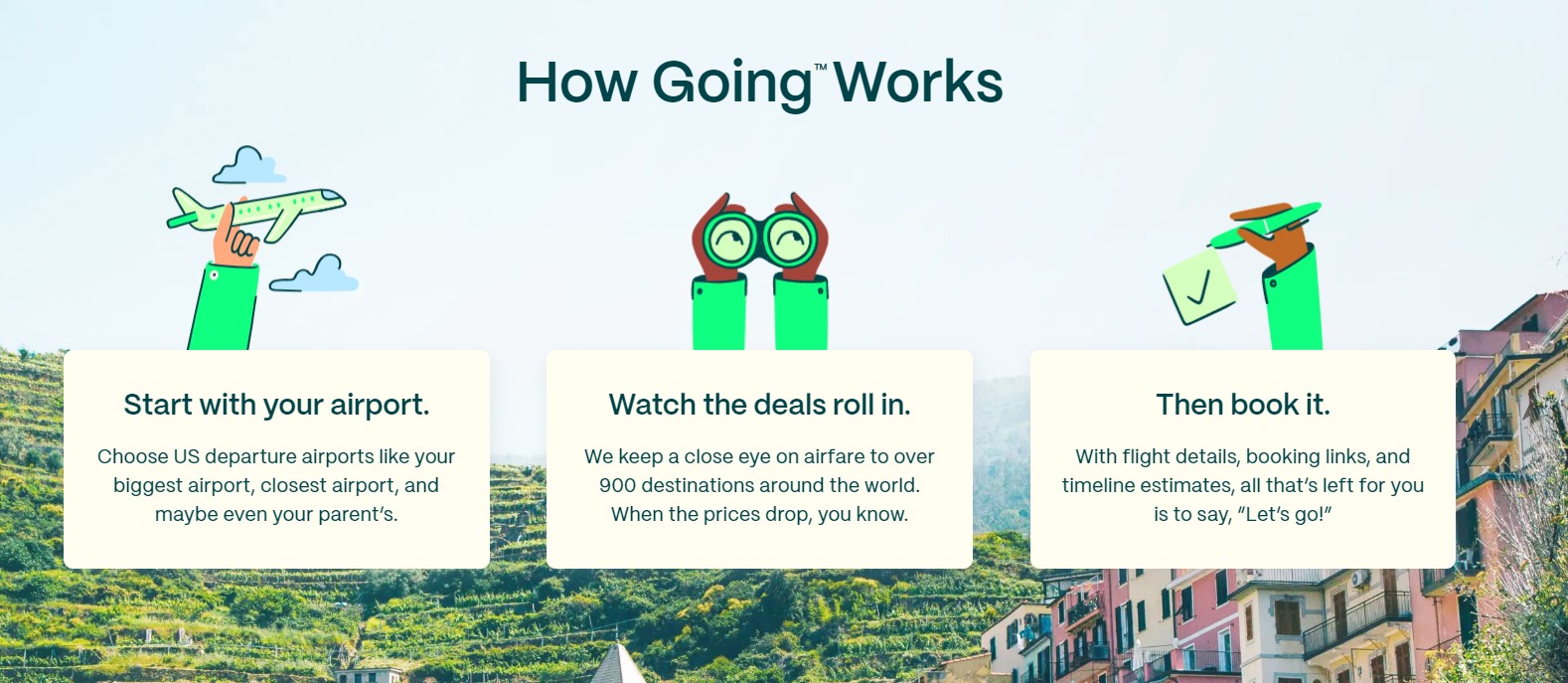 There are three membership tiers: Limited, Premium, and Elite. While Limited is entirely free, you can take advantage of a 14-day free trial of both Premium and Elite before signing up.
New users can also get 20% off Premium with the code NOMADICMATT20.
The tiers break down as follows:
Limited (free):
Small selection of deals on economy-class tickets for international travel, 1-2 days after they are found
Can follow five US departure airports (but you can't filter flights in any other way)
Premium ($49/year):
Immediate notification of both international and domestic economy-class deals
Alerts about rare mistake fares from your home airport (when the airlines incorrectly price a flight)
Weekend Getaway alerts (for flights departing within the next month)
Ability to filter what alerts you get
Can follow up to 10 US airports
Elite ($199/year):
Everything in Premium
All mistake fares Going finds
Deals on all ticket classes
Unlimited number of departure airports
Deals on award flights (for booking with points)
Priority support
Here's a full breakdown of the plans: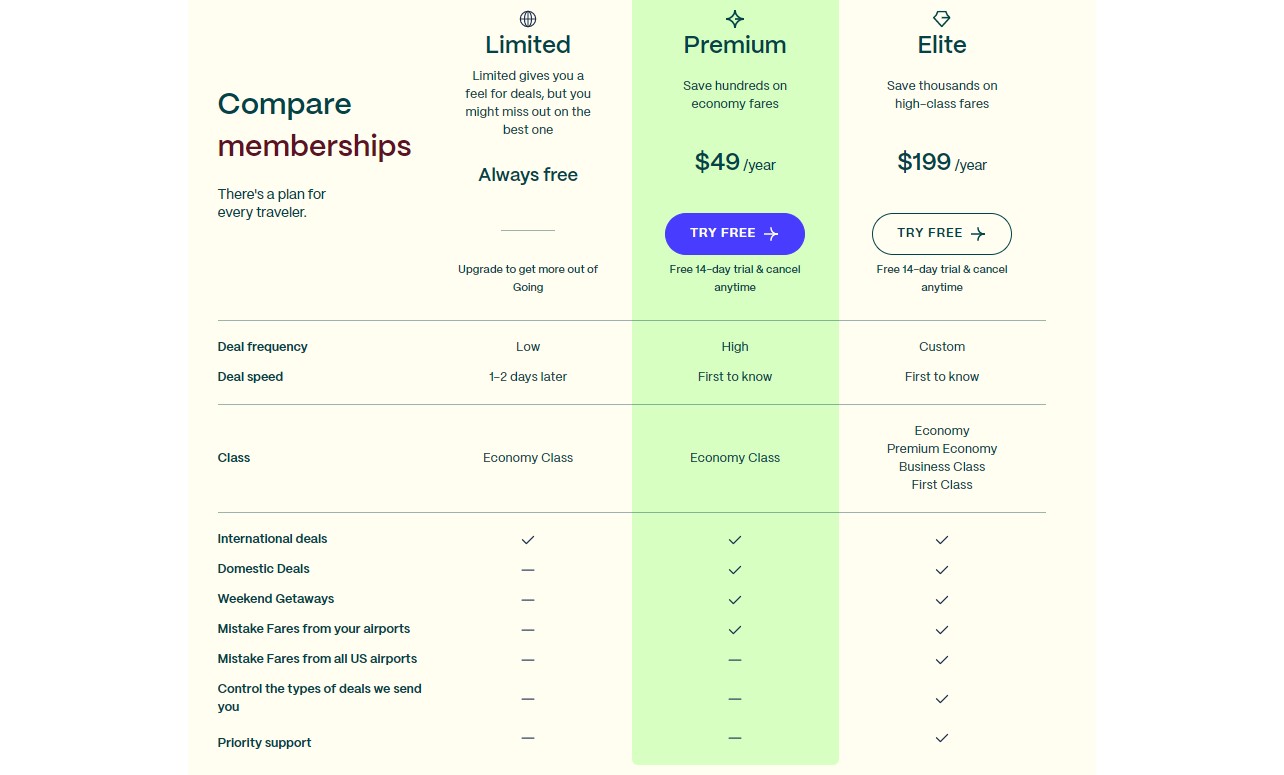 If you're just looking for the odd flight deal, chances are the Limited plan will suffice for you. However, if you're looking to travel more and want to really save money, Premium is a must. It has way more perks and offers a lot of value. And if you want deals on booking with points, you'll need to sign up for the Elite plan as it is the only plan that includes award flight deals.
(If you're a new user, don't forget to use the promo code NOMADICMATT20 for 20% off Premium.)
Once you pick a plan and sign up, you'll want to enter your home airport, as well as any additional airports that you might be willing to travel to for a great deal.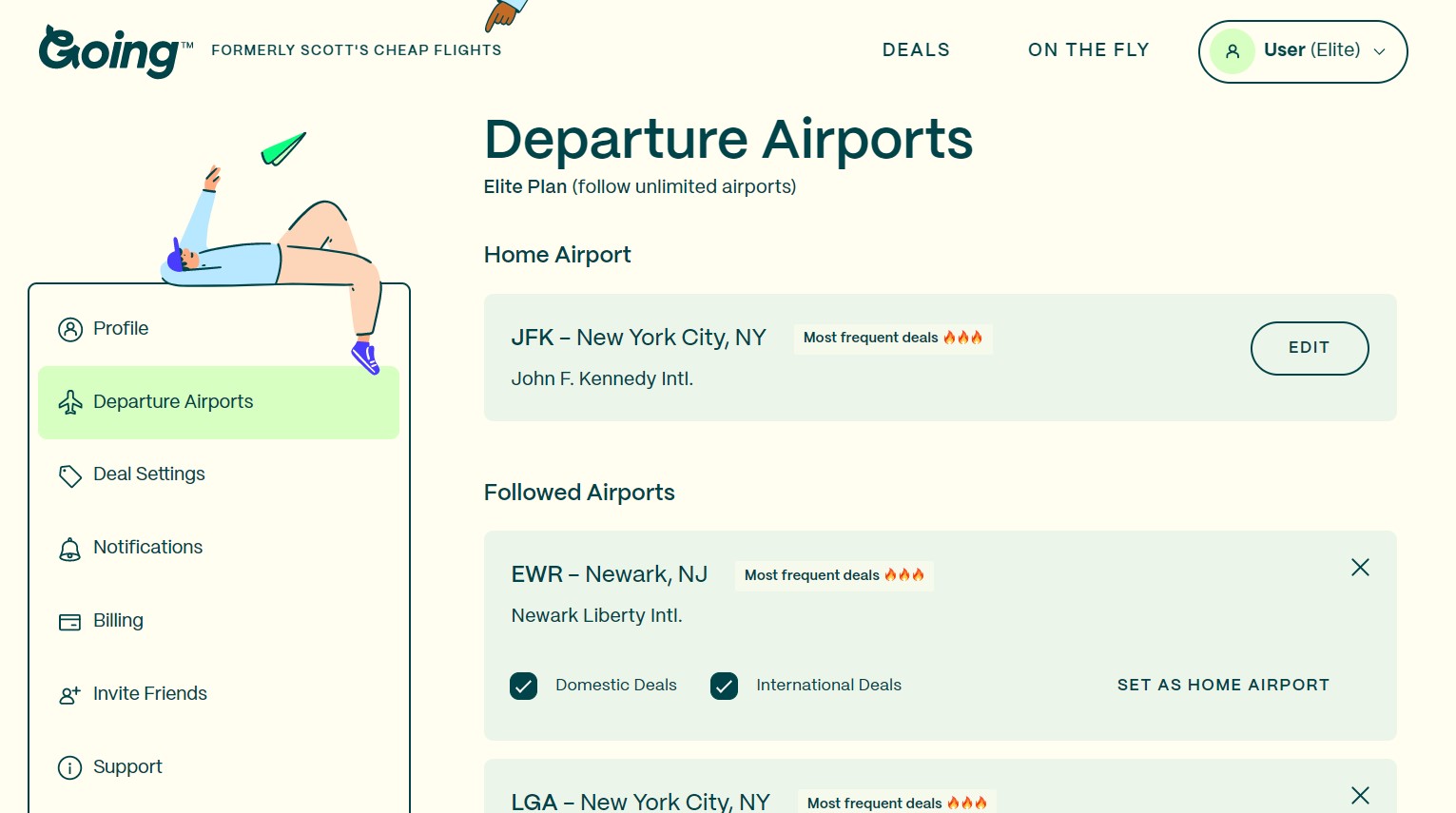 While the major benefit of being a member of Going is that you can just sit back, do nothing, and wait for a bargain to show up in your inbox, you can also search the Flight Deals page: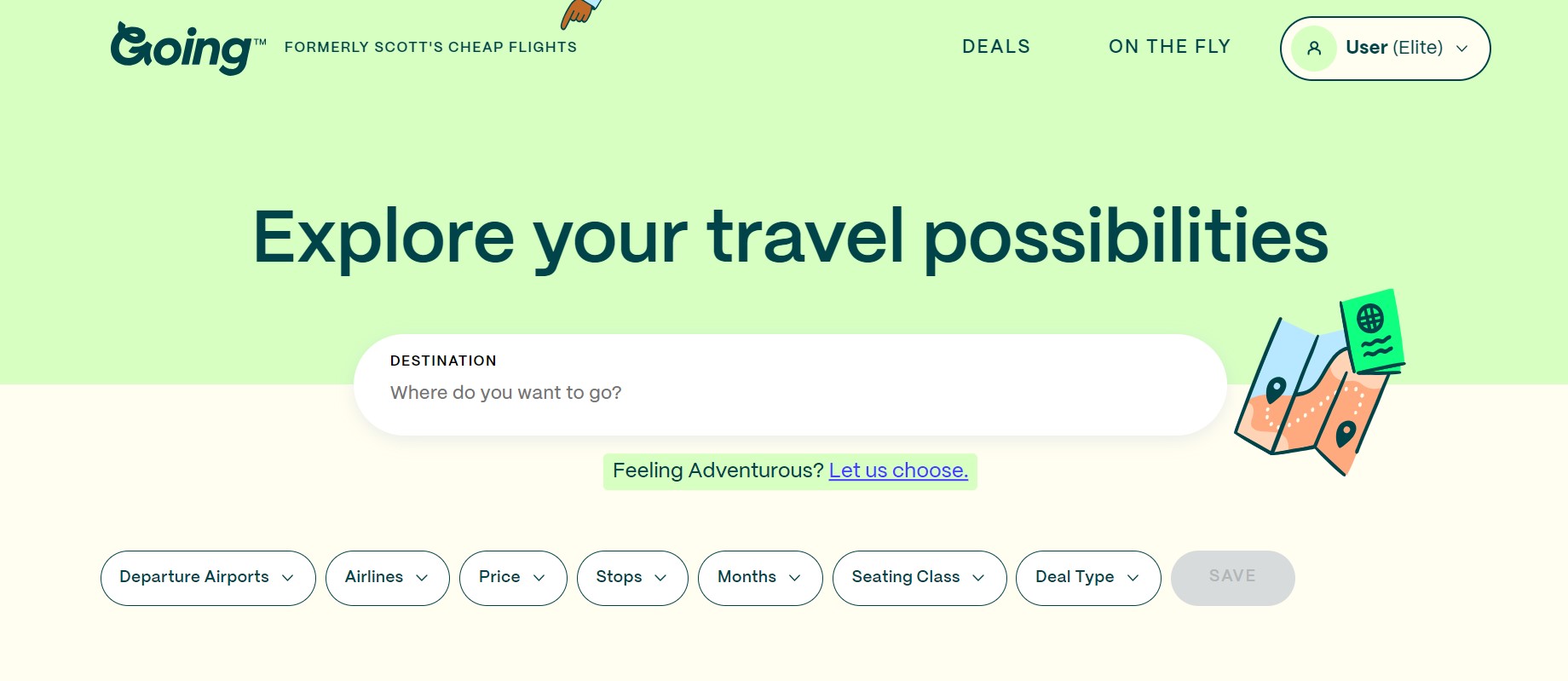 Here's an example of what you can see on this page on the Limited Plan vs. the Elite Plan:
The Limited (free plan) view: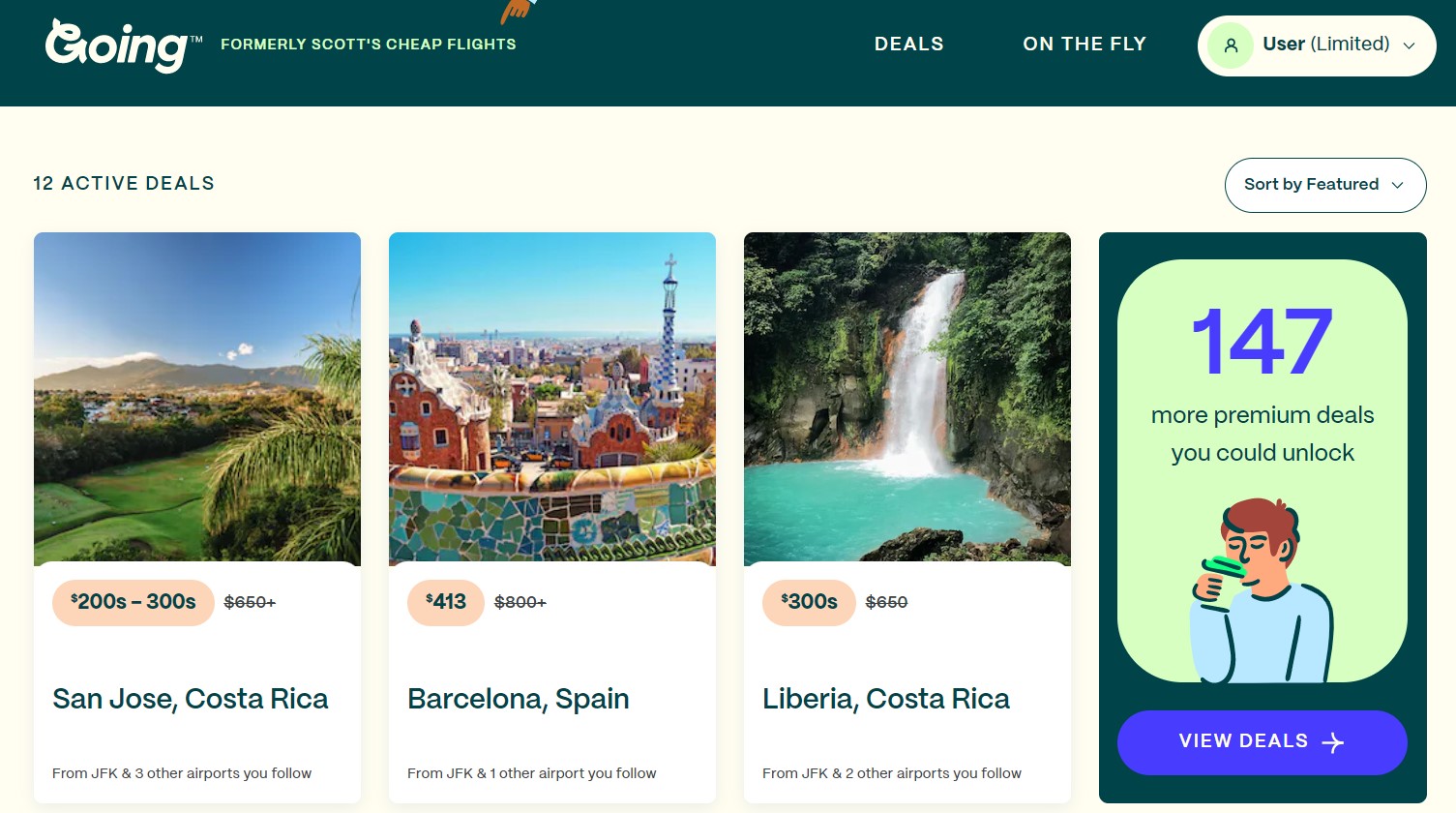 The Elite plan view (as you can see, there are hundreds more deals here, and this is filtered for Economy flights only):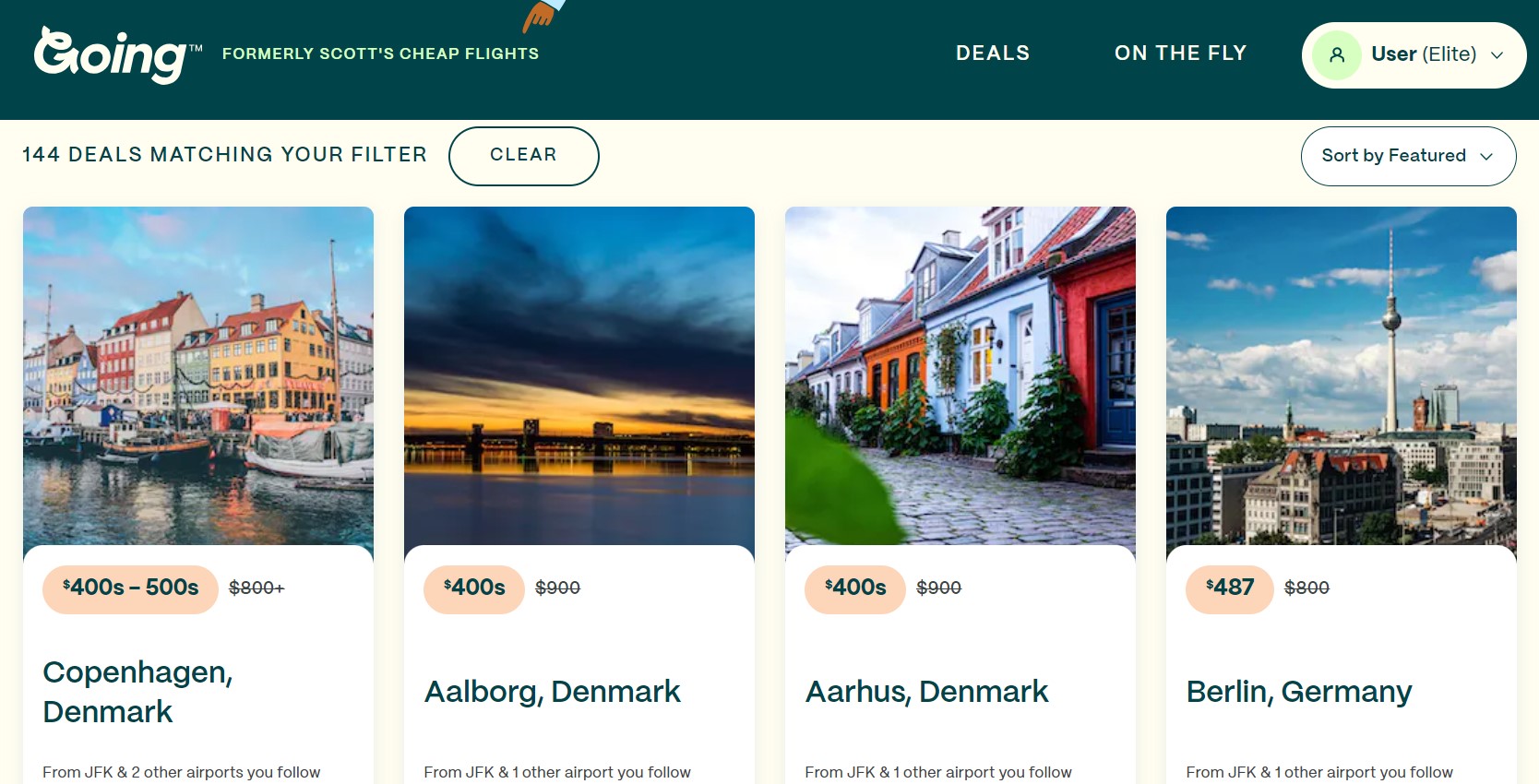 How Going Finds Deals
It might be surprising to hear, but most of Going's deals are found by their (human) Flight Experts using a set of criteria to determine what makes for a "deal."
That means that they don't just send you any and every cheap flight, but instead curate a selection of deals. They won't send you a flight with several long layovers or an overnight layover, and they don't send deals on budget airlines.
Instead, Going deals consist of nonstop or one-stop flights on full-service airlines with manageable layovers. They also make sure that a deal has at least ten different departure dates, so you'll never encounter one that requires to you travel on a specific day. In short, they only pick decent flights, which I really appreciate.
On every deal, you'll see a breakdown with a bit about the flight and destination, as well as sometimes a write-up including helpful tips and information from the Flight Expert who found the deal: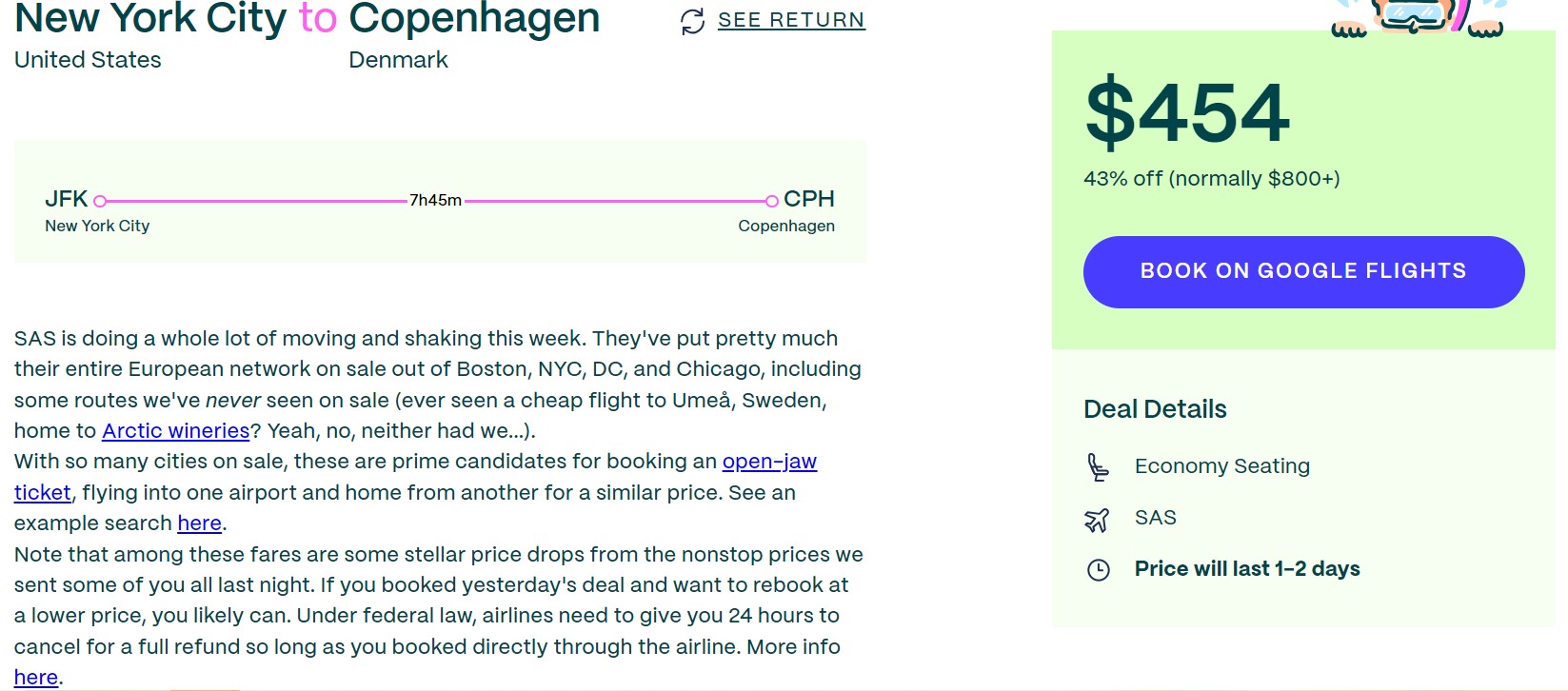 You'll also see a price history for the flight, so you can see exactly how good of a deal it is. To me, this is super interesting: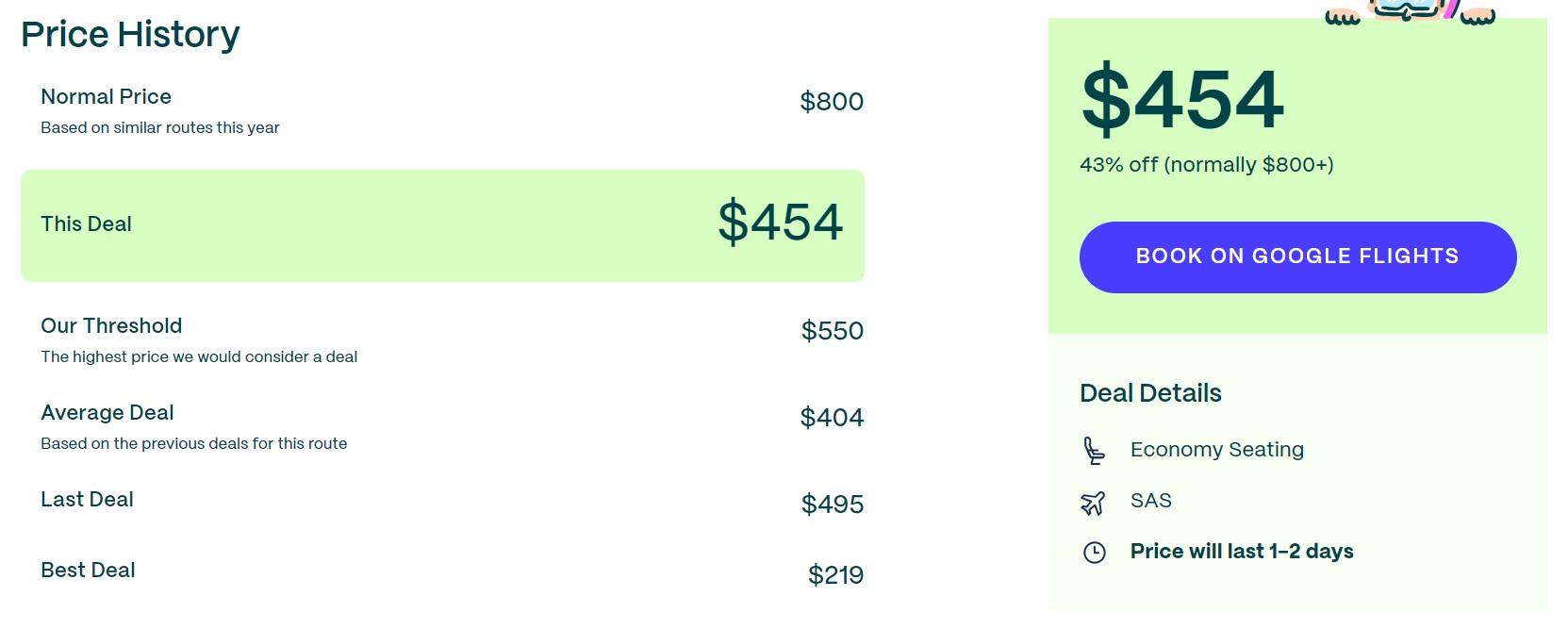 Once a deal comes up that you want, all that's left is to book it. Simply hit the "book" button on Going, which will then take you to the booking site. Usually it's Google Flights, but sometimes it might be Skyscanner or similar platforms.
As you can see, when you click through, Going has already set all the filters so that the deal it found comes up: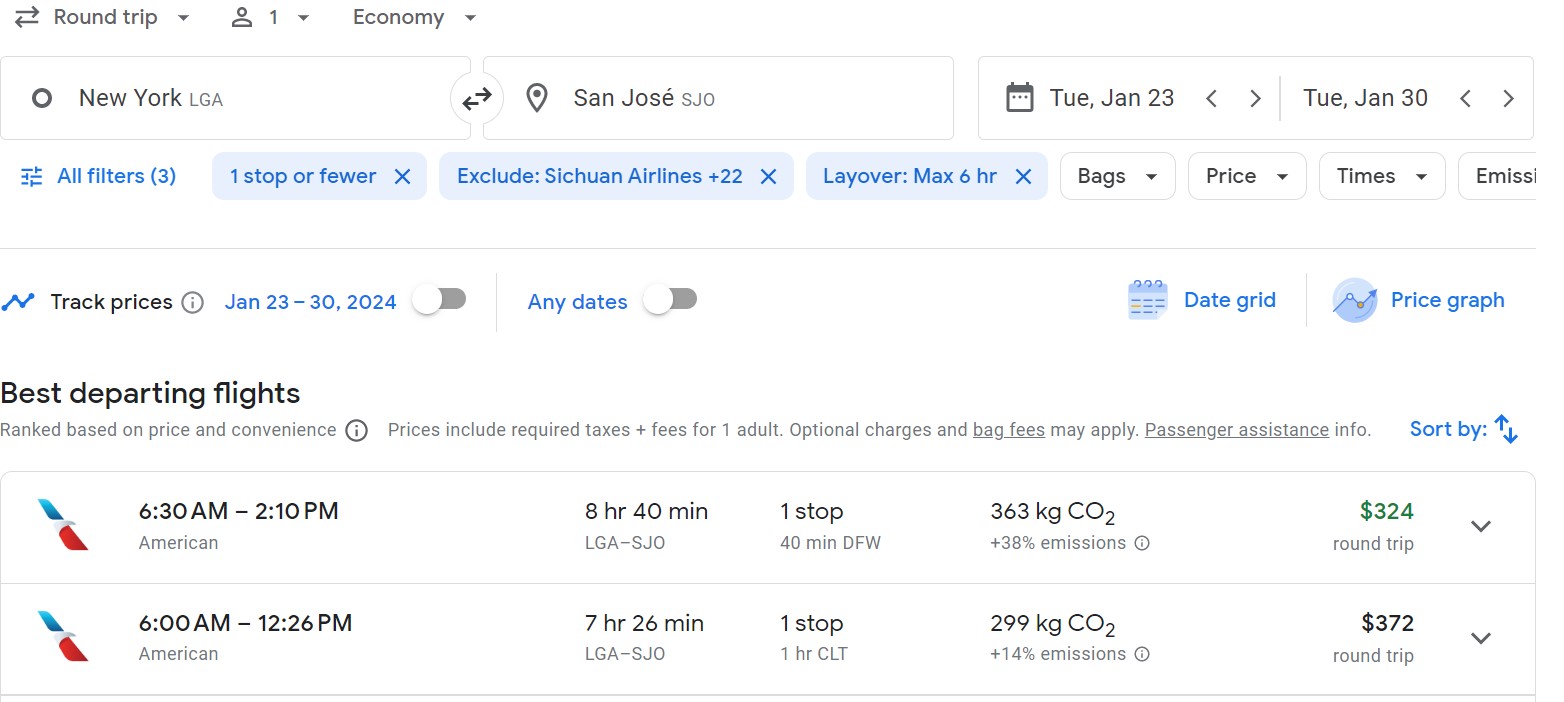 When booking, you'll want to act fast. Flight prices change all the time, so snag that fare while it still exists. That's especially the case with mistake fares, as they're rare and get scooped up or fixed quickly.
Remember, in the US you legally have 24 hours after purchasing a flight to cancel it, so book first and then quickly figure out any required logistics (time off, pet care, etc.), knowing you can cancel within a day if needed.
And that's all there is to it!
Pros and Cons of Using Going
Pros:
Getting cheap-flight alerts delivered to your inbox (saving you a ton of time)
Simple and easy to use
Great, hands-on customer service
Affordable tiers (including a free one)
Allows for a variety of departure options to streamline your searches
Cons:
Paid membership is necessary for the best deals
Only works if your home airport is in the US (including the US Virgin Islands, Puerto Rico, and Guam)
Award-flight availability is limited (in beta version for the Elite plan)
Should You Use Going?
Going is for travelers who want cheap airfare and can be flexible on dates and destinations in order to get the best deals. Going calls this its "reverse-booking" approach.
Going is for people that don't have the time or inclination to constantly check for cheap fares, and would rather pay a small fee (the $49/year Premium plan is sufficient for most people) to unlock a world of deals.
Going also works best for travelers who can act quickly once a deal becomes available. While most deals are for travel 2-9 months in the future, since prices change so quickly, you'll need to be able to book as soon as you get an email alert (but: remember the blanket 24-hour free cancelation policy on all US airlines).
On the flip side, Going is not a tool that will help you find cheap fares to a specific destination for a specific time. (If that's all you want, simply set up a Google Flights alert for your required dates and destination.) The very nature of the service requires flexibility in order to take advantage of the best deals.
Going is also not for people who would rather spend the time searching for deals themselves rather than pay for a membership. You can find the flights that Going discovers on your own, as they're publicly available on search engines like Google Flights, Skyscanner, and Kayak. However, that takes (a lot of) time, and one person would never be able to find all the deals that Going's team of over 50 people can! Even I get tired of searching for flight deals sometimes!
***
I think Going is a great resource to help budget travelers find incredible flight deals all over the world. While you can certainly learn the tips and tricks for doing so on your own, Going saves you the time and energy it takes to look for deals so that you can keep living your life, wait for the perfect one to arrive in your inbox, book it, and get going.
Sign up with promo code NOMADICMATT20 to get 20% off a Premium Plan!